ruffly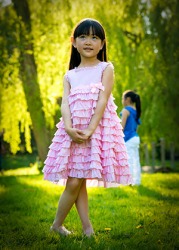 Amelia wore her favorite pink ruffly dress to her friend's birthday party in the park.
adjective
The definition of ruffly is something with gathers of fabric.

An example of something ruffly is a girl's dress with frills at the sleeves and the bottom edge.
---
ruffly

Adjective
(comparative more ruffly, superlative most ruffly)
Having many ruffles.
---