noun
Roman numerals are defined as combinations of the letters I, V, X, L, C, D and M which are used in various orders to stand for a specific number.

An example of a Roman numeral is IX which stands for the number 9.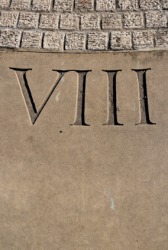 Roman numerals for the number eight.
---
Roman numerals definition by Webster's New World
the Roman letters used as numerals until the 10th cent. : in Roman numerals I = 1, V = 5, X = 10, L = 50, C = 100, D = 500, and M = 1,000 Other numbers are formed from these by adding or subtracting: the value of a symbol following another of the same or greater value is added (e.g., III = 3, XV = 15); the value of a symbol preceding one of greater value is subtracted (e.g., IX = 9); and the value of a symbol standing between two of greater value is subtracted from that of the second, the remainder being added to that of the first (e.g., XIX = 19): Roman numerals are commonly written in capitals, though they may be written in lowercase letters, as in numbering subdivisions (e.g., Act IV, scene iii) A bar over a letter indicates multiplication by 1,000 (e.g.,  = 5,000)
Webster's New World College Dictionary Copyright © 2010 by Wiley Publishing, Inc., Cleveland, Ohio. Used by arrangement with John Wiley & Sons, Inc.
---
Roman numerals - Cultural Definition
Letters of the alphabet used in ancient Rome to represent numbers: I = 1; V = 5; X = 10; L = 50; C = 100; D = 500; M = 1000. The numbers one through ten are written I, II, III, IV, V, VI, VII, VIII, IX, and X. Roman numerals are often used to signify divisions of a long work, or of a work with many parts. They are also used to lend significance to something, as in Super Bowl VII. Formal designation of years may also be in Roman numerals: a.d. MCMLXXXIX = a.d. 1989.