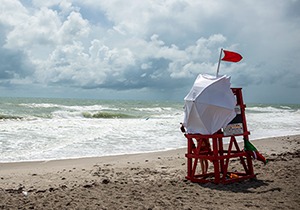 Tropical storms can create dangerous riptides along the shore.
noun
The definition of a riptide is a strong current pulling towards the sea.

An example of a riptide is the pull of the water that can make a man fall while wading in the sea.
---
riptide
a current opposing other currents, producing violently disturbed water; esp., the strong, narrow flow of seawater that rushes seaward after incoming waves pile up on the shore
Origin of riptide
rip + tide
---
riptide

Noun
(plural riptides)
A particularly strong tidal current which may e.g. carry a swimmer far offshore.
A rip current.

This beach suffers from a riptide that can easily sweep you out to sea.
---