ring in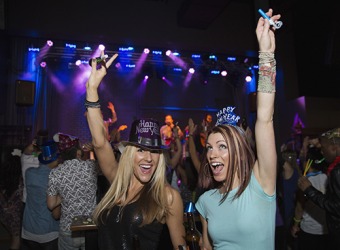 Chelsea and her best friend ring in the New Year at their favorite club.
verb
Ring in is defined as to begin or open.

An example of to ring in is to celebrate the beginning of the new year.
---
ring-in

Noun
(plural ring-ins)
A replacement, made at the last minute, usually in a sporting context.
An outsider.
Verb
(third-person singular simple present rings in, present participle ringing in, simple past rang in, past participle rung in)
To make a phone call to one's usual place of work.

John has just rung in sick. He won't be back til Monday, he says.

To celebrate by ringing of the bells or as if by ringing of the bells.

We will ring in the New Year at a ski resort.
---