ready-to-eat food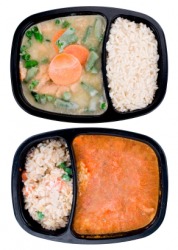 Two examples of ready-to-eat food.
noun
Ready-to-eat food is food that is already prepared with no mixing of ingredients or other cooking required beyond heating up the food.

Prepared lasagna that you buy at the grocery store and then take home to heat up and eat is an example of ready-to-eat food.
---