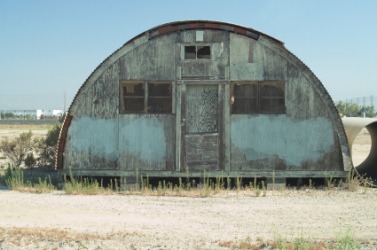 A rustic Quonset hut.
---
Quonset hut
☆
a prefabricated shelter made of corrugated metal, shaped like a longitudinal half of a cylinder resting on its flat surface
Origin of Quonset hut
; from
Quonset
, a trademark, after
Quonset
Point, R.I., where first manufactured
---
Quonset hut
Noun
(plural Quonset huts)
A lightweight prefabricated structure of corrugated galvanized steel having a semicircular cross section.
Origin
Named after the place they were manufactured; the placename derives from an Algonquian language.
---