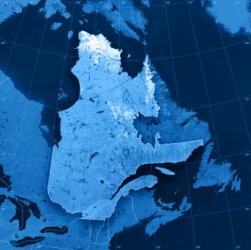 The Canadian province of Quebec.
---
Quebec definition by Webster's New World
province of E Canada, between Hudson Bay & the Gulf of St. Lawrence: 594,860 sq mi (1,540,681 sq km); pop. 7,139,000: abbrev. QC or Que

capital of this province: seaport on the St. Lawrence River: pop. 167,000 (met. area, 672,000)
Origin: French earlier Quebecq, Kébec, probably ; from Algonquian name of region where the city was built
---
Quebec definition by American Heritage Dictionary
or Qué·bec
Abbr. PQ or Que. A province of eastern Canada. It joined the confederacy in 1867. The region was first explored and claimed for France by Jacques Cartier (1534) and Samuel de Champlain (1608) and was made a royal colony, known as New France, by Louis XIV in 1663. Conflict between the French and British for control of the territory ended in 1763 when Great Britain was given sovereignty, but the French influence has remained dominant. Quebec is the capital and Montreal the largest city. Population: 7,550,000.
also Quebec City or Québec City The capital of Quebec, Canada, in the southern part of the province on the St. Lawrence River. Champlain established a colony in its Lower Town in 1608. British forces under General Wolfe defeated the French forces led by General Montcalm at the Plains of Abraham here in 1759. The city is today a popular tourist center. Population: 491,000.
Related Forms:
Que·beckˈer, Que·becˈer

noun
The American Heritage® Dictionary of the English Language, 4th edition Copyright © 2010 by Houghton Mifflin Harcourt Publishing Company. Published by Houghton Mifflin Harcourt Publishing Company. All rights reserved.
---
Quebec - Cultural Definition
Province in eastern Canada, bordered to the east by Newfoundland, the Atlantic Ocean, and the Gulf of St. Lawrence (an arm of the Atlantic Ocean); to the southeast by New Brunswick and several states of the United States; to the southwest by Ontario; to the west by Ontario and Hudson Bay; and to the north by islands of the Northwest Territories. Its capital is Quebec City, and its largest city is Montreal.
A French colony from 1663 to 1759, Quebec was then lost to the British.

It is Canada's largest province in area and second largest in population, after Ontario.

With French as its official language, Quebec has experienced tensions between its majority French and minority English cultures.