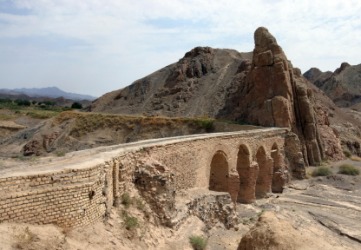 A qanat in Iran.
noun
Qanat is an ancient system of underground tunnels that supply mountain water to dry lower places in the Middle East.

An example of qanat is a tunnel and well system that supplies water to the city Gonabad in Iran.
---
qanat
an ancient system of deep underground tunnels and wells built in the Middle East to channel water from a mountain to a dry lower region
Origin of qanat
Persian ; from Arabic
?an?t
, reed, pipe, channel
---
qanat
noun
An ancient irrigation system consisting of a tunnel dug at a very slight upward gradient into rising ground so that water from deep within the earth runs out to the surface. Qanats were developed in Persia and later adopted throughout the Middle East and North Africa.
Origin of qanat
Persian
qan&amacron;t
, from Arabic
qan&amacron;h, qan&amacron;t-
,
tube, canal, qanat
; akin to Hebrew
q&amacron;ne
and Akkadian
qanû
,
reed
; see
qnw
in Semitic roots.
---
qanat
---