putrescible

pu·tres·ci·ble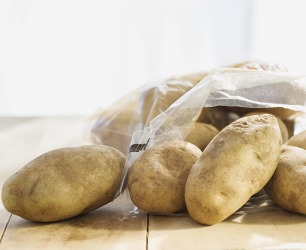 Because of the putrescible tendency of potatoes, they should be stored in a cool dark place.
adjective
The definition of putrescible is something that could become rotten.

An example of putrescible used as an adjective is a putrescible vegetable, such as a moist potato in a tightly sealed bag.
---
putrescible
liable to become putrid
Origin of putrescible
Late Latin
putrescibilis
---
putrescible
adjective
Subject to putrefaction.
Origin of putrescible
French
from
Old French
from
Late Latin
putrēscibilis
from
Latin
putrēscere
to rot
; see
putrescent
.
---
putrescible

Adjective
(comparative more putrescible, superlative most putrescible)
Capable of becoming putrescent; rottable.
Origin
From Latin putrescere ("to rot") +"Ž -ible.
---