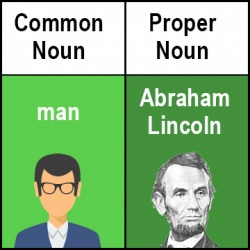 Abraham Lincoln is a proper noun.
noun
The definition of a proper noun is a grammar term used to refer to a specific person, place or thing instead of a general one.

An example of a proper noun is "Brad Pitt," as opposed to just "actor."
---
proper noun
noun
A noun belonging to the class of words used as names for unique individuals, events, or places. Also called proper name .
---
proper-noun

Usage notes
In English, a proper noun normally is not preceded by an article or limiting modifier and is written with an initial capital letter.
Adjective
proper-noun
attributive form of proper noun, noun.
---