Project Gemini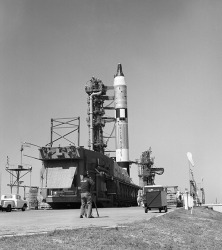 Gemini-Titan 3 on its launch pad at Cape Canaveral, Florida 1965
noun
The definition of Project Gemini is a series of "practice" spaceflights in 1965 which were designed to develop techniques and advance knowledge and familiarity of space travel.

Facts About Project Gemini

Gemini consisted of ten total human space flights.
Key figures involved with the project were: Jim Chamberlin (Head of the engineering division of the US Space Task Group), Gus Grissom (an astronaut who had participated in Project Mercury) and Guenther Wendt (an engineer who had worked on Project Mercury and was responsible for the spacecraft for Gemini).
Gemini involved quite a few scientific and technological advancements from the earlier Project Mercury.
Gemini was the first usage of a detachable module on the spacecraft, with life support systems and power/propulsion built in, designed for use in an emergency; ejector seats and other major safety features were also added for the first time.
The spacecraft used in Gemini was also the first that was able to alter its orbit and move in all directions.
Gemini marked the first use of an onboard computer, which was used for general control and management of the flight and its details, including in-flight calculations and back-up guidance and direction control.
The computer, called the Gemini Guidance Computer, had been designed and built especially for usage on Project Gemini by engineers and programmers in the Federal System Division of IBM.

An example of Project Gemini is the ten space flights in 1965 which were largely designed to help train NASA teams for an upcoming trip to the moon.
---