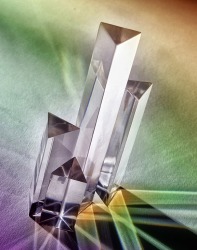 crystal prism
noun
The definition of a prism is a solid geometric object (especially one made of glass) with sides that are parallelograms and end faces that are parallel and equal in shape and size, or anything that refracts light.

An example of a prism is a glass object in a specific geometric shape that makes white light to show all the colors of the rainbow.
---
prism
Geom.

a solid figure whose ends are parallel, polygonal, and equal in size and shape, and whose sides are parallelograms
a crystalline body whose lateral faces meet at edges that are parallel to each other
anything that refracts light, as a drop of water

Optics

a transparent body, as of glass, whose ends are equal and parallel triangles, and whose three sides are parallelograms: used for refracting or dispersing light, as into the spectrum
any similar body of three or more sides
Origin of prism
Late Latin
prisma
from Gr, literally , something sawed from
prizein
, to saw from
priein
, to saw, bite; uncertain or unknown; perhaps akin to Albanian
prish
, (I) destroy, break

---
prism
noun
A solid figure whose bases or ends have the same size and shape and are parallel to one another, and each of whose sides is a parallelogram.
A transparent body of this form, often of glass and usually with triangular ends, used for separating white light passed through it into a spectrum or for reflecting beams of light.
A cut-glass object, such as a pendant of a chandelier.
A crystal form consisting of three or more similar faces parallel to a single axis.
A medium that misrepresents whatever is seen through it.
Origin of prism
Late Latin
prīsma
from
Greek
prīsma
thing sawed off, prism
from
prīzein
to saw
variant of
prīein
---
prism

Noun
(plural prisms)
(geometry) A polyhedron with parallel ends of the same size and shape, the other faces being parallelogram-shaped sides.
A transparent block in the shape of a prism (typically with triangular ends), used to split or reflect light.
Origin
Late Latin prisma, from Ancient Greek πρίσμα (prisma, "something sawed"), from πρίζειν (prizein, "to saw").
---
prism - Computer Definition
(1) (PhotoRefractive Information Storage Materials Consortium) A collaboration of IBM, Stanford University, GTE, Hughes Research Labs, Optitek, SRI International and Rockwell Science Center that is funded by the U.S. government's Advanced Research Projects Agency for the purpose of researching holographic storage.
(2) (PRogrammable Integrated Scripts for Mirror) The programming language for the Mirror communications programs.
(3) See PR/SM.
---