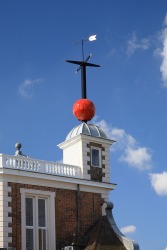 The Greenwich Time Ball is located at the prime meridian.
noun
The prime meridian is a reference line through Greenwich, England that measures longitude east and west.

An example of prime meridian is zero degrees longitude.
---
prime meridian
the meridian from which longitude is measured both east and west; 0° longitude: it passes through Greenwich, England
---
prime meridian
noun
A meridian used as a reference line from which longitude east and west is measured.
Prime Meridian The meridian passing through Greenwich, England, designated as the zero meridian (0°) by an international conference in 1884.
Prime Meridian
---
prime-meridian

---