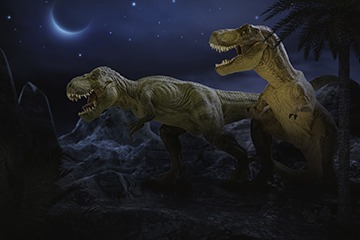 Tyrannosaurus Rex
noun
Prehistory are events or things that happened before there was a record of events, or what happened leading up to an event.

An example of prehistory is when dinosaurs lived on earth.
An example of prehistory is a person getting drunk at a bar and running a red light, which led to a car accident.
---
prehistory
history before recorded history, as learned from archaeology, etc.
the background of incidents, etc. leading to an event, crisis, etc.
---
prehistory
noun
pl.
pre·his·to·ries
History of humankind in the period before recorded history.
The circumstances or developments leading up to or surrounding an event or situation; background: "

[He]

then told me the curious prehistory of his obsessive interest in the seduction theory" ( Janet Malcolm )
Related Forms:
---
prehistory

Noun
(countable and uncountable, plural prehistories)
The history of the events that led up to something (e.g. a crisis, a reconciliation, etc).
---