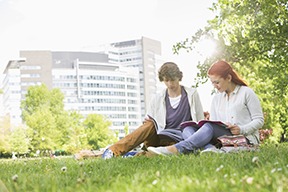 College students studying on campus at a postsecondary school.
noun
Postsecondary school is education such as college education that takes place after you have graduated from secondary schools such as high schools.

College or university is an example of a postsecondary school.
---
postsecondary-school

Noun
(plural postsecondary schools)
(education, US and Canada) An educational institution (usually a college or university) which is attended after graduation from secondary school or high school.

McGill University is a well-known Canadian postsecondary school.
---