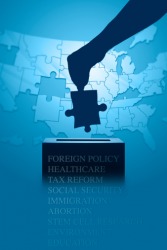 Political issues in the U.S.
noun
The definition of a political map shows the government borders for countries, states and counties, as well as the location of capitals and major cities.

Facts About Political Maps

Political maps are most often flat and denote country borders in bright colors to help identify the edges of countries.

Depending on the scale of the map, political maps may also include highways, roads and cities.

Political maps are also used to demark borders to aid people and organizations with giving money and food to the needy.

An example of a political map is one that shows the borders of U.S. states and the location of the state capitals.
---