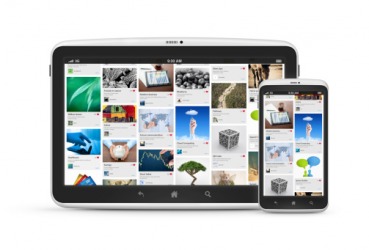 A computer screen showing a Pinterest page.
noun
Pinterest is an online service that allows you to share images through social networking.

An example of Pinterest is the website where you have a "pinboard" that allows you to post ideas that you want to remember and then share them with your friends through Facebook.
---
Pinterest - Computer Definition
A socially oriented photo-sharing site in the form of an online pinboard. Co-founded by Ben Silbermann, the site's tag line is "Organize and share the things you love." Pinterest was launched as a closed site in March 2010 and later made invitation only. Members post images, called "pins," onto their boards for any purpose, including planning a wedding, saving recipes and redecorating a home. Repin and Pin It Members can "repin" images from other boards onto theirs, and all boards are identified by one of several categories, which are posted on the Pinterest menu. A "Pin It" button on the user's bookmark bar (the "pinmarklet") displays all the images on a Web page for ease of selection for pinning. Videos can also be uploaded to the site, which are featured in a separate section. For more information, visit www.pinterest.com.
---