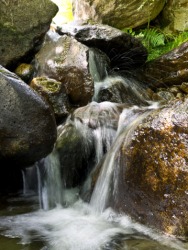 The rocks were made smooth from the physical weathering of moving water.
noun
The definition of physical weathering is rocks, soil and minerals being slowly broken down or broken apart by the Earth's environment such as pressure, temperature, water and ice.

An example of physical weathering is a large rock located under a waterfall turning smooth from the pounding water.
---