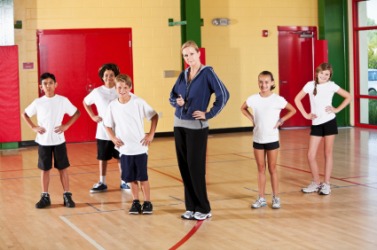 Students in a physical education class.
noun
Physical education is defined as formal instruction in exercise and proper eating.

An example of physical education is gym class taught in middle school.
---
physical education
instruction in physical exercise and in the care and hygiene of the human body; esp., a course in gymnastics, athletics, etc., as in a school or college
---
physical education
noun
Abbr.
PE
Education in the care and development of the human body, stressing athletics and including hygiene.
---
physical-education

Noun
(uncountable) (Abbreviated as: PE or phys ed)
An element of an educational curriculum concerned with bodily development, strength, physical co-ordination, and agility.

The physical education instructor also served as the coach of the track team.
---