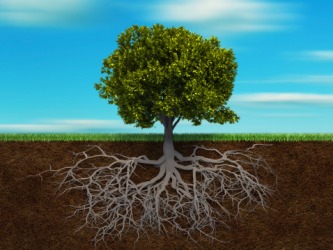 The deep rooted tree is a phreatophyte.
noun
The definition of a phreatophyte is a plant or tree with an extremely long root structure.

Facts About Phreatophytes

They have learned through evolution how to grow their roots down to the water table, deep below the earth's surface, where the water from the monsoons and other desert rains can penetrate and keep from evaporating once the heat returns.
They are also protected from temperature extremes and from being uprooted by their highly developed and persistent root systems.
They can live in standing water or where the water table is very near the surface.
They are resistant to disease.

An example of a phreatophyte is alfalfa.
---
phreatophyte
a long-rooted plant that absorbs its water from the water table or other permanent ground supply
Origin of phreatophyte
from Classical Greek
phrear
(gen.
phreatos
), a well ( from Indo-European an unverified form
bh(e)reu-,
to boil up see fervent) + -phyte
---
phreatophyte
noun
A plant, often with deep roots, that is mostly or entirely dependent on water from a permanent ground supply.
Origin of phreatophyte
Greek
phrear
phreat-
well, spring
; see
phreatic
.
-phyte
Related Forms:
phre·at′o·phyt′ic

adjective
---
phreatophyte

---