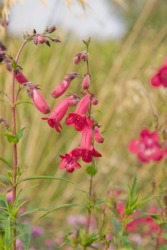 Bright pink beardtongue or penstemon flowers.
---
penstemon definition by Webster's New World
☆
noun
any of a large genus (Penstemon) of chiefly North American plants of the figwort family, having five stamens, the fifth of which is bearded and sterile, and bearing tubular, showy, white, pink, red, blue, or purple flowers
Origin: Modern Latin ; from Classical Greek penta-, five plush stēmōn, warp: see stamen
Webster's New World College Dictionary Copyright © 2010 by Wiley Publishing, Inc., Cleveland, Ohio. Used by arrangement with John Wiley & Sons, Inc.
---
penstemon definition by American Heritage Dictionary
noun
Any of numerous plants of the genus Penstemon, native to North America and eastern Asia, having opposite leaves, flowers with a usually two-lipped, variously colored corolla, and capsules containing many seeds. Also called beardtongue.
Origin: New Latin Pēnstēmōn, genus name : Greek pente, five; see penkwe in Indo-European roots + Greek stēmōn, thread; see stā- in Indo-European roots.