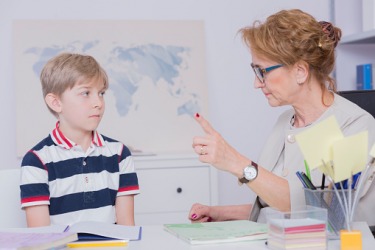 The teacher's pejorative comments about Justin's assignment made him feel stupid.
adjective
The definition of pejorative is having a negative or belittling effect.

An example of pejorative is a cruel statement about a student's schoolwork that causes him to produce even lower quality schoolwork.
---
pejorative
Linguis.

taking on or giving a meaning or connotation that is less favorable: -ess and -ling are often pejorative suffixes
disparaging or derogatory
Origin of pejorative
from Classical Latin
pejoratus,
past participle of
pejorare,
to make worse from
pejor,
worse, origin, originally , inclined downward from Indo-European base an unverified form
ped-,
foot
a pejorative word or form
---
pejorative
adjective
Disparaging; belittling:
"The label

Neandertal

took on a pejorative connotation decades ago; it implied boorishness at best and stupidity at worst"
(
Craig Stanford
)
noun
A disparaging or belittling word or expression.
Related Forms:
---
pejorative

Adjective
(comparative more pejorative, superlative most pejorative)
---