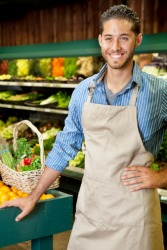 The young man works part-time at the grocery store because he also takes college classes.
noun
The definition of a part-time employee is an employee who works for less than the standard number of hours of someone working full time, such as less than 35 hours a week.

An example of a part-time employee is someone who works 20 hours a week at a store when most full-time employees work 35 to 40 hours.
---