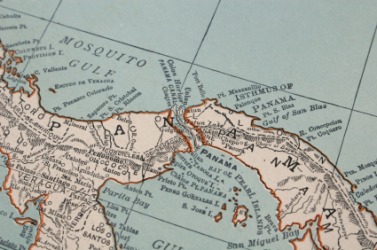 A vintage map of the Panama Canal.
---
Panama Canal
ship canal across the Isthmus of Panama, connecting the Caribbean Sea (hence, Atlantic Ocean) and the Pacific Ocean: c. 50.7 mi (82 km) long
---
Panama Canal
A ship canal, about 82 km (51 mi) long, crossing the Isthmus of Panama and connecting the Caribbean Sea with the Pacific Ocean. It was begun by the French in 1881, but the project was abandoned in 1889. The United States gained construction rights after Panama declared its independence in 1903, and the canal was opened to traffic on August 15, 1914. A 1977 treaty granted Panama full sovereignty over the canal effective December 31, 1999.
---
Panama Canal
---