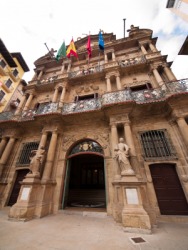 City hall in Pamplona.
---
Pamplona
city in Navarre, NE Spain: pop. 182,000
---
Pamplona
A city of northern Spain east-southeast of Bilbao. An ancient Basque city, it was captured by the Visigoths, Franks, and Moors and became the capital of the kingdom of Navarre (824–1512). The city is known for its annual running of the bulls during the feast of San Fermin.
---