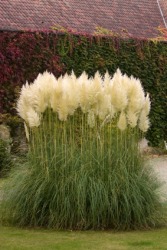 A clump of pampas grass.
---
pampas grass
a giant South American grass (Cortaderia selloana) cultivated for use as an ornamental and for its large, plumelike, silvery or pinkish panicles used in bouquets
---
pampas grass
noun
Either of two tall ornamental grasses (Cortaderia selloana or C. jubata) native to South America and naturalized elsewhere, having large feathery inflorescences.
Origin of pampas grass
After the
Pampas
.
---