Palermo
[pə ler′mō; It pä ler′mō̂]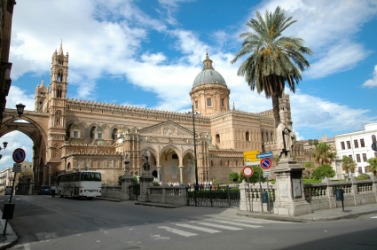 The cathedral in Palermo.
---
Palermo
seaport & capital of Sicily, on the N coast: pop. 697,000
---
Palermo
A city of northwest Sicily, Italy, on the Tyrrhenian Sea. Founded by Phoenicians c. eighth century BC, it later became a Carthaginian military base and was conquered by Rome in 254–253. The Arabs held the city from AD 831 until 1072, when it became capital of the independent kingdom of Sicily (until 1194).
---