noun
Pakistan is a country in southern Asia.

An example of Pakistan is the country of which Islamabad is the capital.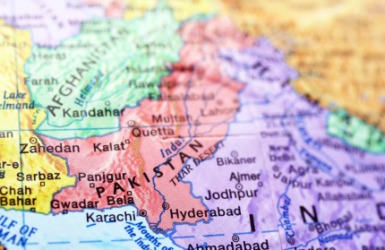 A map showing Pakistan.
---
Pakistan definition by Webster's New World
country in S Asia, on the Arabian Sea: formed from parts of former British India, it became a dominion (1947-56) & a republic (1956-72; 1989-99) of the Commonwealth: 307,293 sq mi (795,886 sq km); pop. 131,500,000; cap. Islamabad
Webster's New World College Dictionary Copyright © 2010 by Wiley Publishing, Inc., Cleveland, Ohio. Used by arrangement with John Wiley & Sons, Inc.
---
Pakistan definition by American Heritage Dictionary
A country of southern Asia. Occupying land crisscrossed by ancient invasion paths, Pakistan was the home of the prehistoric Indus Valley civilization, which flourished until overrun by Aryans c. 1500 B.C. After being conquered by numerous rulers and powers, it passed to the British as part of India and became a separate Muslim state in 1947. The country originally included the Bengalese territory of East Pakistan, which achieved its separate independence in 1971 as Bangladesh. Pakistan became a republic in 1956. Islamabad is the capital and Karachi the largest city. Population: 165,000,000.
Related Forms:
Pakˌi·stanˈi

adjective

& n.
Word History:
Many central and south Asian states and regions end with the element
-stan,
such as
Afghanistan, Pakistan, Baluchistan, Kurdistan,
and
Turkistan.
This
-stan
is formed from the Iranian root
*stā-,
"to stand, stay," and means "place (where one stays), home, country." Iranian peoples have been the principal inhabitants of the geographical region occupied by these states for over a thousand years. The names are compounds of
-stan
and the name of the people living there. Pakistan is a bit of an exception; its name was coined in 1933 using the suffix
-istan
from Baluch
istan
preceded by the initial letters of
P
unjab,
A
fghanistan, and
K
ashmir. • Interestingly, a word almost identical in form, etymology, and meaning to the Iranian suffix
-stan
is found in Polish, which has a word
stan
meaning "state" (in the senses of both polity and condition). It can be found in the Polish name for the "United States of America,"
Stany Zjednoczone Ameryki
(literally "States United of America").
Pakistan
The American Heritage® Dictionary of the English Language, 4th edition Copyright © 2010 by Houghton Mifflin Harcourt Publishing Company. Published by Houghton Mifflin Harcourt Publishing Company. All rights reserved.
---
Pakistan - Cultural Definition
Republic in southern Asia, bordered by India to the east, the Arabian Sea (an arm of the Indian Ocean) to the south, Iran to the southwest, and Afghanistan to the west and north.
Pakistan became part of British India in 1857. When India gained its independence in 1947, Muslim leaders demanded a separate Muslim state, and the nation of Pakistan was established. Originally, Pakistan consisted of two regions, West Pakistan (now Pakistan) and East Pakistan (now Bangladesh).

In 1998, Pakistan successfully conducted tests of nuclear weapons.

In 2001, Pakistan's president allowed the United States to use his country as a base to attack Afghanistan for harboring Osama bin Laden and Al Qaeda members.