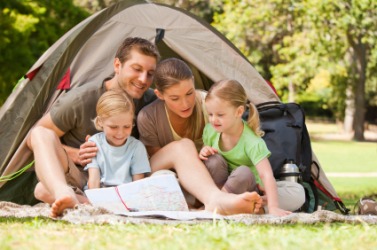 An outdoorsy family.
adjective
The definition of outdoorsy is someone or something related to or fond of nature.

A person who likes to camp outside is an example of an outdoorsy person.
Camping is an example of an outdoorsy activity.
---
outdoorsy
Informal
of, characteristic of, or fond of the outdoors or outdoor activities
---
outdoorsy
adjective
Informal
Associated with the outdoors: outdoorsy hobbies such as fishing.
Showing a liking for the outdoors: "backpackers, mountain climbers, cross-country skiers, and other no-nonsense outdoorsy types" ( New Yorker )
---
outdoorsy

Adjective
(comparative outdoorsier, superlative outdoorsiest)
(informal) Fond of the outdoors.
---