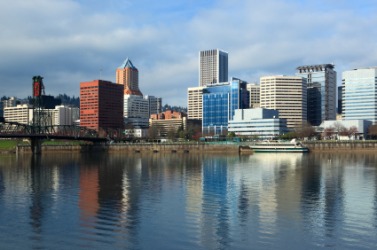 The skyline of Portland, Oregon.
---
Oregon definition by Webster's New World
NW coastal state of the U.S.: admitted, 1859; 95,997 sq mi (248,631 sq km); pop. 3,421,000; cap. Salem: abbrev. OR, Ore, or Oreg
Origin: probably ; from Amerindian ouragan (lit., birch-bark dish), native name of the Columbia (River)
Webster's New World College Dictionary Copyright © 2010 by Wiley Publishing, Inc., Cleveland, Ohio. Used by arrangement with John Wiley & Sons, Inc.
---
Oregon definition by American Heritage Dictionary
Abbr.
OR
or
Ore.
A state of the northwest United States in the Pacific Northwest. It was admitted as the 33rd state in 1859. Claimed by the United States after Capt. Robert Gray explored the mouth of the Columbia River in 1792, the area was further explored by Lewis and Clark in 1805 and was soon the site of fur-trading posts. The Oregon Country, a region encompassing all the land from the California border to Alaska and the Pacific Ocean to the Rocky Mountains, was held jointly by Great Britain and the United States from 1818 until 1846, when the international boundary was fixed at the 49th parallel. In 1848 the Oregon Territory was created, including all of present-day Washington and Idaho. The state's current boundaries were established in 1853. Salem is the capital and Portland the largest city. Population: 3,750,000.
Related Forms:
Orˌe·goˈni·an

adjective

& n.
The American Heritage® Dictionary of the English Language, 4th edition Copyright © 2010 by Houghton Mifflin Harcourt Publishing Company. Published by Houghton Mifflin Harcourt Publishing Company. All rights reserved.
---
Oregon - Cultural Definition
State in the northwestern United States bordered by Washington to the north, Idaho to the east, Nevada and California to the south, and the Pacific Ocean to the west. Its capital is Salem, and its largest city is Portland.
Before the coming of the railroads, the Oregon Trail was used as an overland emigration route from the Missouri River to the Columbia River country (all of which was then called Oregon).