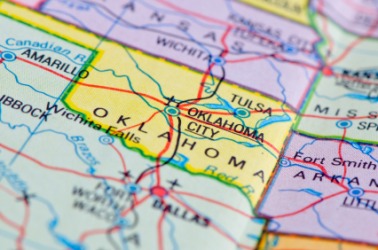 The state of Oklahoma on a map.
---
Oklahoma
state of the SC U.S.: admitted, 1907; 68,667 sq mi (177,847 sq km); pop. 3,451,000; cap. Oklahoma City: abbrev. OK or
Origin of Oklahoma
; from Choctaw
okla,
people +
homma,
red
---
Oklahoma
Abbr. OK or Okla.
A state of the south-central United States. It was admitted as the 46th state in 1907. The western part was organized in 1890 as the Oklahoma Territory, which was merged with the adjoining Indian Territory to form the present state boundaries. The Dust Bowl of the 1930s forced many farmers to move west as migrant laborers. Oklahoma City is the capital and the largest city.
Related Forms:
O′kla·ho′man

adjective

& n.
---