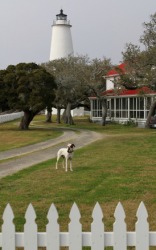 Lighthouse on Ocracoke Island.
---
Ocracoke Island definition by American Heritage Dictionary
A long barrier island off the eastern coast of North Carolina between Pamlico Sound and the Atlantic Ocean. The pirate Edward Teach, also known as Blackbeard, was killed here in 1718. It is now a popular resort area.
Our Living Language
Ocracoke is one of the Outer Banks barrier islands off the North Carolina coast. The island has a small town of about 650 year-round residents. The Ocracoke community, established in the early 1700s by people of British descent, has remained relatively isolated from the mainland for nearly three centuries. During this period of isolation, Ocracokers developed a unique dialect of American English that residents and outsiders often refer to as the
brogue,
perhaps because some of the oldest Ocracoke families have Irish and Scotch-Irish roots. Some of the Ocracoke brogue's more prominent features are retentions of older features of English that vanished from most mainland dialects long ago. For example, older Ocracokers say
hit
for
it
and
a-huntin
for
hunting.
Similarly, some Ocracoke words, such as
mommuck
("to harass or bother") and
quamish
("sick in the stomach"), date back to at least Shakespeare's day. But contrary to popular belief, Ocracoke English is not Elizabethan English preserved unchanged since the first English speakers came to the island. All languages and dialects change over time, even those far removed from the influence of outside language varieties. Pronunciations are particularly susceptible to change. Thus, some of the most familiar pronunciation features of the Ocracoke dialect probably do not date back to the community's earliest origins but are more likely innovations that developed around the turn of the 20th century. Its best-known feature is the pronunciation of the vowel sound in words like
high
and
tide
as similar to (oi), so that
high tide
sounds like (hoi toid). In fact, Ocracokers and neighboring islanders are often known as
hoi toiders.
In recent decades, Ocracokers have had increasing contact with outsiders as the island's traditional marine-based economy has become tourism-based. With this influx of mainlanders, the Ocracoke brogue is rapidly fading away. Nonetheless, because it allows islanders to distinguish themselves from tourists and new residents—and thus preserve their identity—prominent features of the Ocracoke brogue may remain unaffected by contact with other speech communities.