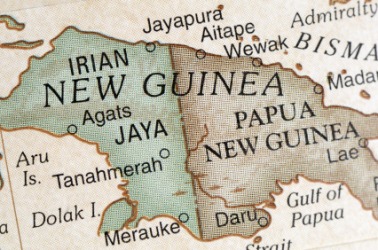 A map of New Guinea.
---
New Guinea
large island in the East Indies, north of Australia: divided between West Irian (in Indonesia) and Papua New Guinea:

c.

330,000 sq mi (854,697 sq km)

Indonesian name Irian

former Australian trust territory including NE New Guinea, the Bismarck Archipelago, Bougainville, & smaller adjacent islands of the Solomons
---
New Guinea
An island in the southwest Pacific Ocean north of Australia. The western half is part of Indonesia, and the eastern half forms the major portion of Papua New Guinea. Inhabited by Papuan and Austronesian peoples, it was named by 16th-century European explorers for the Guinea coast of western Africa.
Related Forms:
New Guinean

adjective

& n.
---
New Guinea
Proper noun
A large island in the Pacific Ocean, north of Australia, whose territory is divided between Indonesia in the west and Papua New Guinea in the east.
(historical) the northern part of what is now called Papua New Guinea, formerly administered as a separate territory to Papua.
(informal) the nation more properly referred to as Papua New Guinea.
---