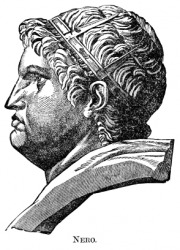 An engraving of the Emperor Nero.
---
Nero
(Nero Claudius Caesar Drusus Germanicus, born Lucius Domitius Ahenobarbus) 37-68; emperor of Rome (54-68): notoriously cruel & depraved
---
Nero
Full name Nero Claudius Caesar. AD 37–68.
Emperor of Rome (54–68) whose early reign was dominated by his mother, Agrippina the Younger. He had his mother and wife murdered, and he was accused of setting the Great Fire of Rome (64). He committed suicide after being deposed by the Senate.
Related Forms:
---