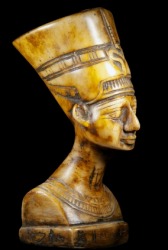 A bust of Nefertiti.
---
Nefertiti
---
Nefertiti
14th century BC.
Queen of Egypt as the wife of Akhenaten. A famous sculpture of her head and shoulders was discovered in 1912.
Nefertiti
c. 1350 bc painted limestone bust from the workshop of the sculptor Thutmose
---
nefertiti Facts
Nefertiti (1390 B.C.-ca. 1360 B.C.) was an Egyptian quenn who still remains a mystery to scholars today.
One of the most famous women in antiquity, Nefertiti remains somewhat of a puzzlement to scholars because of her mysterious ancestry and her disappearance from the record during the last years of Akhenaten's reign. Some believe that she was of Egyptian blood, others that she was a foreign princess. Her name, which translates to "The Beautiful One is Come," is an Egyptian birthname—thus not indicative of a foreign birth—and evidence indicates that she had an Egyptian wet-nurse or governess of noble rank, strong support for a birth within the circle of the Egyptian royal court. She may have been a niece of Ay, who ascended to the throne after Tutankhamen.
Her role, if any, late in Akhenaten's rule remains equally unclear. During the first five years of his reign, Nefertiti enjoyed a high profile, and the large number of carved scenes in which she is shown accompanying him during the ceremonial acts he performed is evidence of her political importance. She is depicted taking part in the daily worship and making offerings similar to those of the king— acts quite unlike those relegated to the generally subservient status of previous chief queens. But after the 14th year of Akhenaten's rule, Nefertiti disappears from view. Some have hypothesized that she was the power behind the throne and thus responsible for the innovations during his rule until being dismissed from her position and banished to the North Palace at Amarna. Her banishment would therefore reflect within the royal family an ideological rift, with Nefertiti favoring the continued worship of Aten while Akhenaten and Tutankhamen supported a return to the worship of Amen-Re. Most scholars, however, now suppose that Nefertiti simply died soon after Akhenaten's 14th regnal year, after which first Meritaten and then Ankhesenpaten took her place at the pharaoh's side. A more dramatic, if less accepted, theory holds that she assumed a new, masculine, identity toward the end of Akhenaten's rule—that Nefertiti and the young pharaoh Smenkhkare were, in fact, the same person. □
---