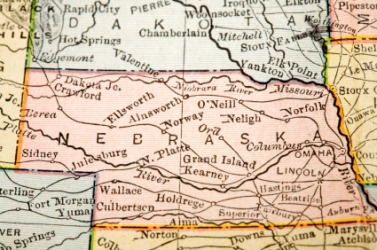 The state of Nebraska.
---
Nebraska
Midwestern state of the NC U.S.: admitted, 1867; 76,872 sq mi (199,099 sq km); pop. 1,711,000; cap. Lincoln: abbrev. NE, Neb, or Nebr
Origin of Nebraska
; from Omaha
nibdhathka
, name of Platte River, literally , flat river
---
Nebraska
Abbr. NE or Nebr.
A state of the central United States in the Great Plains. It was admitted as the 37th state in 1867. The region became part of the United States through the Louisiana Purchase of 1803 and was made a separate territory by the Kansas-Nebraska Act of 1854. Its present boundaries were established in 1861. Lincoln is the capital and Omaha the largest city.
Related Forms:
Ne·bras′kan

adjective

& n.
---