adjective
The definition of naughty is someone or something badly behaved, wicked or not in keeping with moral and social standards.

A child who behaves badly is an example of a child who would be described as naughty.
Immoral thoughts related to sex are an example of thoughts that would be described as naughty thoughts.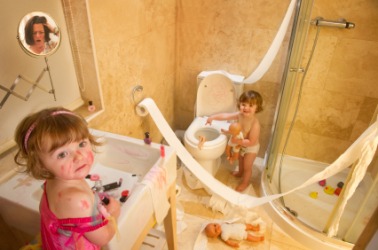 A pair of naughty little children.
---
naughty definition by Webster's New World
adjective
naughtier, naughtiest
Obsolete

wicked; bad; evil
not behaving properly; mischievous or disobedient: used esp. of children or their behavior
showing lack of decorum; improper, indelicate, or obscene
Origin: Middle English naugti: see naught
Webster's New World College Dictionary Copyright © 2010 by Wiley Publishing, Inc., Cleveland, Ohio. Used by arrangement with John Wiley & Sons, Inc.
---
naughty definition by American Heritage Dictionary
adjective
naugh·ti·er
,
naugh·ti·est
Behaving disobediently or mischievously: a naughty child.
Indecent; improper: a naughty wink.
Archaic Wicked; immoral.
noun
pl.
naugh·ties
One that is naughty.
Origin: Middle English noughti, wicked, from nought, nothing, evil, from Old English nāwiht, nothing; see naught.
Related Forms:
Word History:
The word
naughty
at one time was an all-purpose word similar to
bad.
During the 16th century one could use
naughty
to mean "unhealthy, unpleasant, bad (with respect to weather), vicious (of an animal), inferior, or bad in quality" (one could say "very naughtie figes" or "naughty corrupt water"). All of these senses have disappeared, however, and
naughty
is now used mainly in contexts involving mischief or indecency. This recalls its early days in Middle English (with the form
noughti
), when the word was restricted to the senses "evil, hostile, ineffectual, and needy." Middle English
noughti,
first recorded in the last quarter of the 14th century, was derived from
nought,
which primarily meant "nothing" but was also used as a noun meaning "evil" and as an adjective meaning such things as "immoral, weak, useless." Thus
naughty,
in a sense, has risen from nothing, but its fortunes used to be better than they are at present.