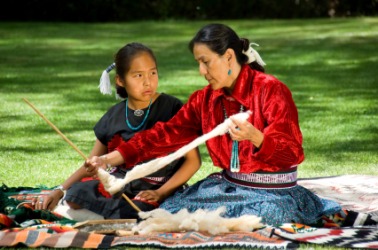 A Native American grandmother and her granddaughter.
noun
The definition of Native American is a person descended from the people who first lived in the Americas.

An example of a Native American is Sacajawea, the woman who accompanied Lewis and Clark on their discovery of the western United States.
---
Native American
---
Native American
noun
A member of any of the indigenous peoples of the Western Hemisphere. The ancestors of the Native Americans are generally considered by scientists to have entered the Americas from Asia by way of the Bering Strait sometime during the late glacial epoch.
Related Forms:
Native American

adjective
Usage Note: Native American is now fully established in American English as an equivalent of Indian, being acceptable in all contemporary contexts and preferred in many. It is especially appropriate as a term of respect used by outsiders, who may have concerns that Indian could cause offense by its association with longstanding cultural stereotypes. Native American is the clear choice in many formal contexts, not only because it indicates respect but, more pragmatically, because it avoids any ambiguity between indigenous American peoples and the inhabitants of India. But despite its wide acceptance, Native American has not displaced Indian to any significant degree outside of formal contexts, and it is now common to find the two terms used interchangeably in the same piece of writing. Furthermore, the issue of which term to use has never been particularly divisive between Indians and non-Indians. While generally welcoming the respectful tone of Native American, most Indian writers have continued to use Indian at least as often. • Native American and Indian are not exact equivalents when referring to the indigenous peoples of Canada and Alaska. Native American, the broader term, is properly used of all such peoples, whereas Indian is customarily used of the northern Athabaskan and Algonquian peoples in contrast to the Inuit and the Yupik. Alaska Native (or less commonly Native Alaskan ) is also properly used of all indigenous peoples residing in Alaska. See Usage Note at American Indian. See Usage Note at First Nation. See Usage Note at Indian.
---
native-american

Noun
(plural Native Americans)
An American Indian, especially in the United States.
Usage notes
Native American is replacing American Indian, although the latter is not usually considered offensive. However, confusion or offence can be avoided by referring to Indians from Canada as First Nations people, Native Canadians, or Aboriginal peoples in Canada.
Adjective
(comparative more Native American, superlative most Native American)
Of the American Indians.
---