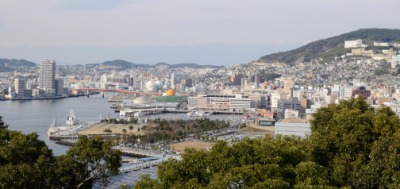 The city of Nagasaki.
---
Nagasaki
seaport on the W coast of Kyushu, Japan: partly destroyed (Aug. 9, 1945) by a U.S. atomic bomb, the second ever used in warfare: pop. 438,000
---
Nagasaki
A city of western Kyushu, Japan, on Nagasaki Bay, an inlet of the East China Sea. The first Japanese port to be opened to foreign trade in the 1500s, Nagasaki was devastated by the second atomic bomb used in World War II (August 9, 1945).
---