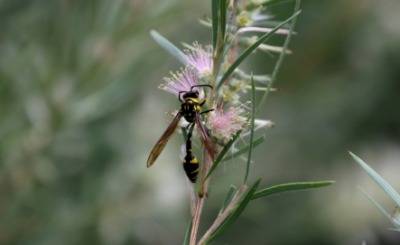 The dirt dauber or mud dauber wasp.
---
mud dauber definition by Webster's New World
☆
any of various narrow-waisted wasps (family Sphecidae) that build cells of hard, caked mud for their larvae
Webster's New World College Dictionary Copyright © 2010 by Wiley Publishing, Inc., Cleveland, Ohio. Used by arrangement with John Wiley & Sons, Inc.
---
mud dauber definition by American Heritage Dictionary
noun
Midland & Western U.S.
Any of various wasps that build nests of mud with cellular compartments for eggs and paralyzed prey. Also called regionally dirt dauber, mud wasp.
Regional Note:
There is no nationwide name for the wasp that makes itself a nest of mud. Rather, there are three regional variants. In the South, it is known as a
dirt dauber.
In the Northeast, and also scattered throughout the Midwest, it is a
mud wasp.
In between, in the Midlands, and also in the West, it has an in-between name, combining the first word of the Northern name and the last word of the Southern one to make
mud dauber.
One kind of mud-nesting wasp is also known as a
potter wasp.