Mexico
[mek′si kō′]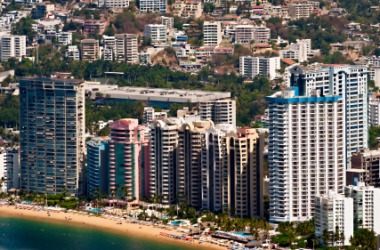 The city of Acapulco, Mexico.
noun
Mexico is defined as a North American country south of the United States, with Spanish as its national language.

An example of Mexico is the country with the capital, Mexico City.
---
Mexico
country in North America, south of the U.S.: 759,529 sq mi (1,967,173 sq km); pop. 81,250,000; cap. Mexico City

state of SC Mexico: 8,286 sq mi (21,461 sq km); pop. 9,816,000; cap. Toluca

arm of the Atlantic, east of Mexico & south of the U.S.: c. 700,000 sq mi (1,812,993 sq km)
Spanish name Méjico, Mexican sp.
Origin of Mexico
; from Spanish
Méjico
; from Nahuatl
Mexìtli,
name of the war god
---
Mexico
A country of south-central North America. Southern Mexico was the site of various advanced civilizations beginning with the Olmec and including the Maya, Zapotec, Toltec, Mixtec, and Aztec cultures. Mexico was conquered by Cortés in 1521 and held by the Spanish until 1821. The Treaty of Guadalupe Hidalgo that ended the Mexican War (1846–1848) awarded all lands north of the Rio Grande to the United States. Mexico City is the capital and the largest city.
Mexico
---