noun
The definition of a Maltese cross is the symbol for a Christian order known as the Knights Hospitaller that was established in the mid 16th century in Malta by Charles V of Spain.

An example of a Maltese cross is a cross with four equal arms that look like four v-shaped arrowheads joined at their points.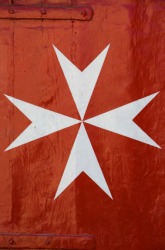 An example of a Maltese cross.
---
Maltese cross
a cross whose arms look like arrowheads pointing inward
a perennial garden flower (Lychnis chalcedonica) of the pink family, having brilliant red five-parted flowers
Origin of Maltese cross
from its use as an emblem by the medieval Knights of Malta
---
Maltese cross
---
Maltese cross
Noun
(plural Maltese crosses)
A cross having four equal arms resembling arrowheads joined at the points
A flowering plant Lychnis chalcedonica of the family Caryophyllaceae
(gymnastics) A position on the rings where the gymnast's body is horizontal and straight, with arms to the side; a horizontal planche.
A Geneva wheel.
---