noun
The Magna Carta is defined as a legal document signed by King John of England on June 15, 1215 which stopped taxation without legislative approval and guaranteed a trial or legal process before taking a person's liberty or property.

An example of the Magna Carta was a document that gave the Englishman the right to have a trial before his property was taken due to unpaid back taxes.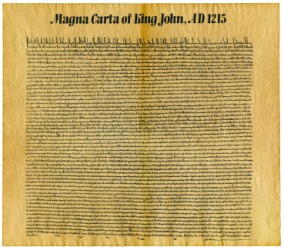 A replica of the Magna Carta.
---
Magna Carta definition by Webster's New World
or Magna Charta
the great charter that King John of England was forced by the English barons to grant at Runnymede, June 15, 1215, traditionally interpreted as guaranteeing certain civil and political liberties
Origin: Midieval Latin literally , great charter
Webster's New World College Dictionary Copyright © 2010 by Wiley Publishing, Inc., Cleveland, Ohio. Used by arrangement with John Wiley & Sons, Inc.
---
Magna Carta definition by American Heritage Dictionary
or Mag·na Char·ta
noun
The charter of English political and civil liberties granted by King John at Runnymede in June 1215.
A document or piece of legislation that serves as a guarantee of basic rights.
Origin: Middle English, from Medieval Latin : Latin magna, great + charta, charter.
The American Heritage® Dictionary of the English Language, 4th edition Copyright © 2010 by Houghton Mifflin Harcourt Publishing Company. Published by Houghton Mifflin Harcourt Publishing Company. All rights reserved.
---
Magna Carta - Cultural Definition
A list of rights and privileges that King John of England signed under pressure from English noblemen in 1215. It established the principles that the king could not levy taxes without consent of his legislature, or parliament, and that no free man in England could be deprived of liberty or property except through a trial or other legal process.