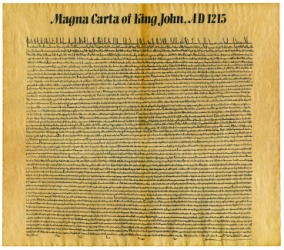 A replica of the Magna Carta.
noun
The Magna Carta is defined as a legal document signed by King John of England on June 15, 1215 which stopped taxation without legislative approval and guaranteed a trial or legal process before taking a person's liberty or property.

An example of the Magna Carta was a document that gave the Englishman the right to have a trial before his property was taken due to unpaid back taxes.
---
Magna Carta
the great charter that King John of England was forced by the English barons to grant at Runnymede (June 15, 1215), traditionally interpreted as guaranteeing certain civil and political liberties
Origin of Magna Carta
ML, literally , great charter
---
Magna Carta
or Mag·na Char·ta
noun
The charter that King John of England issued in 1215 at the behest of his barons, recognizing the right of persons to certain basic liberties, such as due process, later also embodied in the American Constitution: "We are heirs to a tradition given voice 800 years ago by Magna Carta, which … confined executive power by 'the law of the land'" ( David Souter )
Origin of Magna Carta
Middle English
from
Medieval LatinLatin
magna
great
charta
charter
---
magna-carta

Origin
Latin Magna Carta meaning "great charter".
---