linear measure
linear measure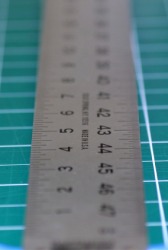 Linear measure.
noun
Linear measure is defined as a measurement of length.

An example of linear measure is using a yard stick to find out the length of a table.
---
linear measure
measurement of length, as distinguished from volume, weight, etc.
a system of measuring length, in which 12 inches = 1 foot or one in which 100 centimeters = 1 meter
---
linear measure
noun
The measurement of length.
A unit or system of units for measuring length. Also called In both senses also called long measure .
---