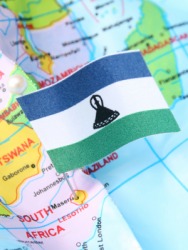 A map and flag of Lesotho, formerly Basutoland.
Licensed from iStockPhoto
---
country in SE Africa, surrounded by South Africa: formerly the British protectorate of Basutoland, it became an independent member of the Commonwealth in 1966: 11,720 sq mi (30,355 sq km); pop. 1,578,000; cap. Maseru
Webster's New World College Dictionary
Copyright © 2010 by Wiley Publishing, Inc., Cleveland, Ohio.
Used by arrangement with John Wiley & Sons, Inc.
---
Formerly Ba·su·to·land
A country of southern Africa forming an enclave within east-central South Africa. Inhabited originally by the San and later by a variety of Sotho-speaking peoples, the area became a British protectorate in 1868 and achieved its independence in 1966. Maseru is the capital. Population: 2,130,000.
Lesotho
The American Heritage® Dictionary of the English Language
, 4th edition Copyright © 2010 by Houghton Mifflin Harcourt Publishing Company. Published by Houghton Mifflin Harcourt Publishing Company. All rights reserved.