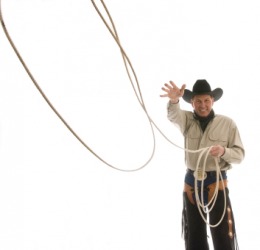 A cowboy using a lariat.
---
lariat definition by Webster's New World
☆
noun
a rope used for tethering grazing horses, etc.
lasso
Origin: Spanish la reata ; from la, the plush reata, a rope ; from reatar, to tie (horses) in single file, origin, originally , retie ; from re-, re- plush atar, to tie ; from Classical Latin aptare ; from aptus: see apt
transitive verb
to tie or catch with a lariat
Webster's New World College Dictionary Copyright © 2010 by Wiley Publishing, Inc., Cleveland, Ohio. Used by arrangement with John Wiley & Sons, Inc.
---
lariat definition by American Heritage Dictionary
noun
See lasso.
A rope for picketing grazing horses or mules.
Origin: Spanish la reata : la, the (from Latin illa; see al-1 in Indo-European roots) + reatar, to tie again (re-, again from Latin; see re- + atar, to tie from Latin aptāre, to join, from aptus, past participle of apere, to tie).