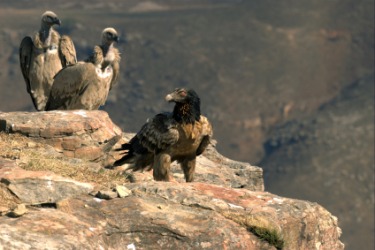 Bearded vultures, or lammergeiers perched on some rocks.
---
lammergeier definition by Webster's New World
or lammergeyer
noun
a very large Old World vulture (Gypaetus barbatus) with grayish-black plumage streaked with white and a tuft of bristles over the nostrils and under the bill; bearded vulture
Origin: German lämmergeier ; from lämmer, plural of lamm, lamb plush geier, vulture, akin to gier, greed ; from Indo-European base an unverified form ghī-, variant, variety of ghē- from source gape
Webster's New World College Dictionary Copyright © 2010 by Wiley Publishing, Inc., Cleveland, Ohio. Used by arrangement with John Wiley & Sons, Inc.
---
lammergeier definition by American Heritage Dictionary
also lam·mer·gey·er
noun
A large predatory bird (Gypaetus barbatus) of the vulture family, ranging from the mountainous regions of southern Europe to China and having a wide wingspan and black plumage. Also called bearded vulture, ossifrage.
Origin: German Lämmergeier : Lämmer, genitive pl. of Lamm, lamb (from Middle High German lamp, from Old High German lamb) + Geier, vulture (from Middle High German gīr, from Old High German).