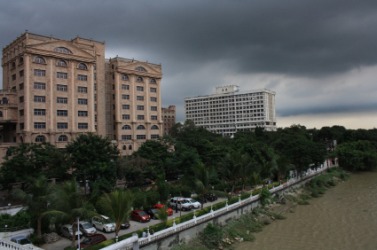 Office buildings on the river in Kolkata.
---
Kolkata
seaport in NE India, on the Hooghly River: capital of West Bengal state: pop. 4,310,000: formerly Calcutta
---
Kolkata
Formerly Cal·cut·ta
A city of eastern India and the capital of West Bengal, on the Hooghly River in the Ganges delta. Founded c. 1690 as a British East India Company trading post, it was the capital of British India from 1772–1912. The chief port and major industrial center of eastern India, Calcutta is one of the country's largest cities.
---
Kolkata
Origin
From the city's Bengali name, কলকাতা.
---