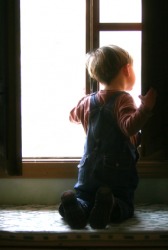 This child has knelt on a window seat.
verb
Knelt is defined as to have kneeled down.

An example of knelt is to have put one's knees on the pew cushion after receiving communion.
---
knelt
alt. pt. and pp. of kneel
---
knelt
verb
A past tense and a past participle of
kneel
---
knelt

Verb
simple past tense and past participle of kneel.
---