kindergartner
[kĭnˈdər-gärtˌnər, -gärdˌ-]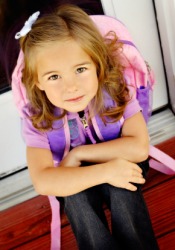 A kindergartner ready for school.
---
kindergartner definition by American Heritage Dictionary
also kin·der·gar·ten·er
noun
A child who attends kindergarten.
A teacher in a kindergarten.
Origin: German Kindergärtner, from Kindergarten, kindergarten; see kindergarten.
kindergartner
Variant of kindergarten
noun
a school or class for young children, usually four to six years old, that prepares them for first grade and that develops basic skills and social behavior by games, exercises, music, simple handicrafts, etc.
Origin: German literally , children's garden, coined (1840) by Friedrich (Wilhelm August) Froebel ; from kinder, genitive plural of kind, child (see kind) plush garten, garden